For What It's Worth is a recurring feature on my blog in which I give my thoughts on a variety of topics in quick-hit fashion. You can visit previous installments here and here.
The Thank You Economy
I recently read Gary Vaynerchuk's book, The Thank You Economy. As I tweeted while reading it, "Perhaps @garyvee's greatest skill is the Seinfeld-like ability to turn the seemingly obvious into revelations." Putting aside the fact that I just quoted myself for a minute, I want to clarify that I don't say this to diminish Gary at all. The genius of Seinfeld's comedic observations was how readily apparent they were to his audience despite the fact that nobody else thought to make them.
Social Studies
I am finding the research and interview processes involved in creating my new Social Studies feature to be even more enjoyable than I anticipated. I have always been curious about different businesses and their marketing efforts. This project has afforded me the opportunity to explore that curiosity and view marketing strategy from a different vantage point. One thing that's been reinforced by my conversations with interview subjects is that the small business owners who have a curiosity about or interest in social media and are willing to explore and experiment have an invaluable leg-up on their competitors. Many businesses wasted little time before testing out Facebook questions (a new feature I'm very bullish about). Below you'll find two questions asked by companies on Facebook (you can click on the image to see a larger version).  Both questions are excellent examples of ways in which businesses can foster customer engagement and gain important knowledge about consumers using this new feature.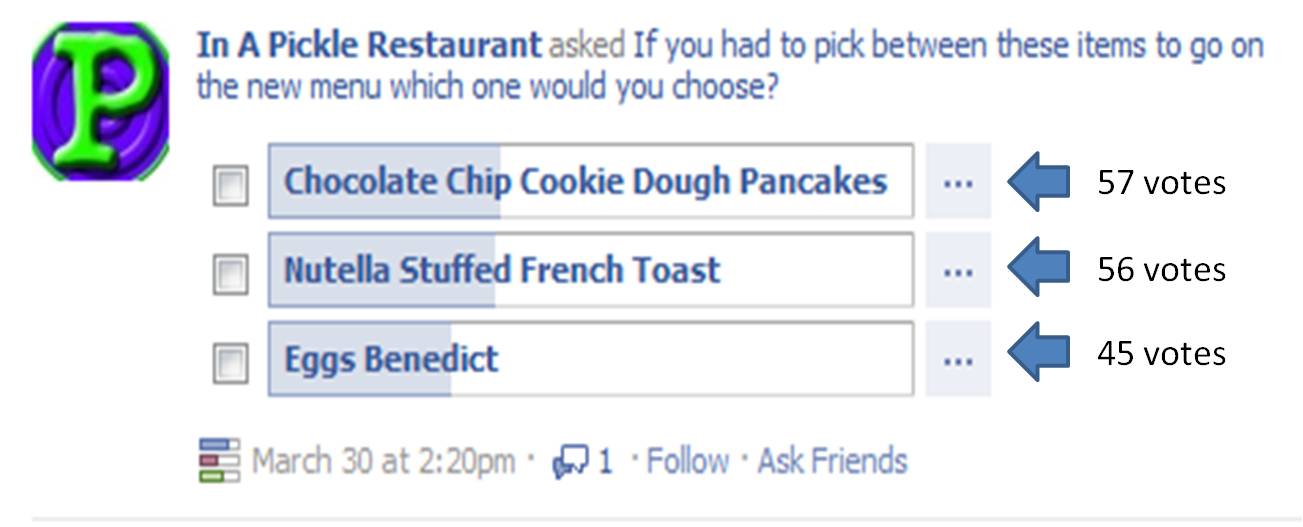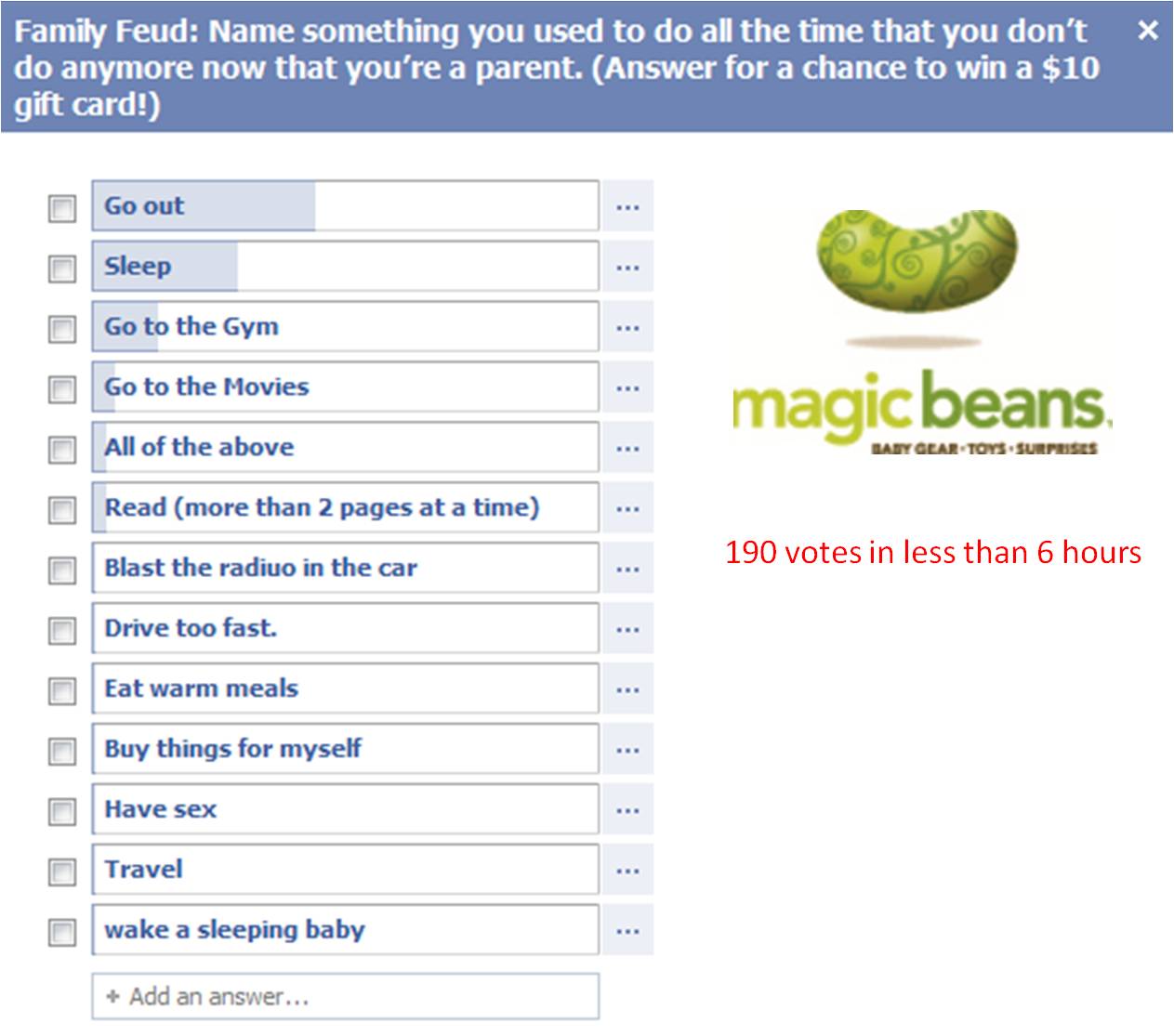 Why am I all atwitter about Twitter?
If you've read any of my prior posts, you're probably aware that I am unabashedly in love with Twitter for a variety of reasons. However, anecdotally speaking, the majority of my friends, family, and colleagues don't use Twitter and have little or no desire to even create an account. Rather than plead the case for Twitter myself, I thought I'd link to two pieces I especially enjoyed from people I respect greatly on the value of Twitter.
Mark Suster (

@msuster

), a former entrepreneur currently working as a General Partner at a Venture Capital firm, offers his unique perspective via his blog,

B

oth Sides of the Table

. In December of 2010 he wrote post entitled

The Power of Twitter in Information Discovery

which I greatly enjoyed reading and resonated with me deeply.

Edward Boches, the Chief Innovation Officer at Mullen, wrote a

post

on Twitter's 5th birthday in which he provided some thoughts how it continues to deliver. Within the post he links to

What Can Twitter Do for You?

, a 2009 AdWeek column he wrote that's also worth a read.
Techy Toddler
My 2 year-old son, Ezra, has quickly adopted the various technological resources available to him. He mastered my iPod Touch in 5 minutes and regularly asks to borrow it to watch episodes of Handy Manny. He makes requests to Skype certain members of our family and even comes running from another room when he hears the familiar Skype ring. He recently declared that his business, EZ Builder, was in need of business cards which his mother promptly helped him make with construction paper and markers. I keep waiting to catch him placing an order on VistaPrint.com or registering @EZBuilder on Twitter (it's taken, interestingly enough). In the meantime, if anyone is in need of a well-mannered, tech-savvy, pantless contractor…as you can see below he's available via his beeper.