We now have access to an unprecedented amount of information about people which can be leveraged to provide context and establish common ground when meeting with colleagues or prospects. However, synthesizing all of the information available via a person's online activity into an easily accessible, digestible format is a tall task. Enter Refresh, a productivity app that searches the web to deliver insights about the people you're meeting with. I discovered the app last summer and immediately loved it.
One of the things I like most about the app (also now available in web version) is that I can "set it and forget it." I configured the settings initially and now automatically get a push notification prior to meetings letting me know that a new dossier is available.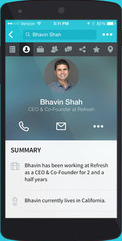 I recently interviewed Refresh's Co-Founder & CEO, Bhavin Shah, via Skype for the latest installment of my Sitdowns With Startups series. Watch the video below to see a recording of our conversation. The backstory behind the creation of the app is one of more interesting ones I've ever heard.
Can't see the video above? Click here to watch it.
To read and/or watch more from this series, please visit http://SitdownsWithStartups.com.