So, in case you hadn't noticed by now, my name is Dave Cutler. With this being my first foray into blogging, I'll ask that you bear with me as I find my voice and learn as I go. I welcome your feedback and advice. While this is my personal blog, my intention is for this space to be used to discuss both personal and professional interests and in some instances a hybrid of the two. My passions are my family (dogs included), marketing, and all things Boston sports. I have a background in sports marketing so you'll find my viewpoint about sports vacillating between that of a fan and a sports marketer.
My goal is to establish my personal brand for those of you who aren't already familiar with it through my blog posts. If you're interested in finding out the basic ABC's of DC, please feel free click any of the links you see along the right-hand side of this page. For those of you who are more visual, or perhaps are looking for more information, see below for a quick PowerPoint slideshow overview. It should sufficiently (if not beyond) bring you up to speed both personally and professionally.
For two quick examples of SI ads which I especially enjoyed making because of personal rooting interests, watch the following videos:
I promise a more substantive post in the near future. I wanted to dispense with the introductions first. In the interim, I invite you check out my Tweets as I think they offer a fairly good window into my daily interests.
I'll close by offering you a quick sample of my self-deprecating sense of humor, love of 80s movies, and obsession with basketball, all rolled into one. While I am a passionate fan of most major sports, at my core, I'm a hoops junkie. Basketball was my first love (how could it not be, growing up in the Larry Bird era) and it remains an important of my life today. I drag myself out on the court once or twice a week to play and while in my head, this is still me:
On the court, I more closely resemble this these days (tip of the cap to you 80s movie fans who recognize the photo).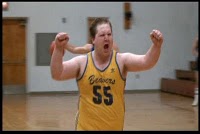 Till next time….